Recommendations
Finding the Best Action Camera for 2023
Published October 6, 2023
Buying an action camera a few years ago was a fairly easy process – find out which GoPro is the latest version, compare that to the years prior version, and click purchase. However, in recent years, GoPro has finally been met with some competition in the market, and the selection process has been far more confusing. Additionally, the 360-degree camera has been making its way into the Action Camera format and size, which throws another complication into the mix. So which is the best? Well, I decided to spend a long weekend to find out.
I decided on seven different cameras from GoPro, Insta360, and DJI to test and find the best action camera available in 2023. So let's take a moment and break down what cameras are in the running.
Action Cameras
The GoPro Hero12 is the latest from GoPro, the supreme leader of the action cameras. Debuting first in 2002, GoPro has always worked exclusively with the action camera format and has led the industry with its developments. But over the last few years, the action camera market has become cluttered, even by GoPro themselves. Is this latest camera worth the upgrade from a GoPro Hero 10 or 11? We'll find that out.
The GoPro Hero12 features a 27MP image sensor capable of 5.3K60 video recording, improved battery life, and HyperSmooth 6.0 that helps stabilize your footage digitally, with pretty incredible results. The Hero 12 also supports Bluetooth, allowing you to seamlessly sync to your phone and control all the settings in the app.
The GoPro Hero11 Mini is the miniature version of the Hero11, offering all the features of the Hero11, in a much smaller form factor. With limited controls and screen size, the GoPro Hero11 is controlled almost exclusively with their Bluetooth phone app, allowing you to adjust resolution, and framerates, and review footage through the help of your smartphone.
Known by most as the leader in drone technology, DJI recently challenged GoPro in the action camera market and just released their latest camera with the DJI Osmo Action 4. This rugged little action camera boasts the best underwater capabilities, being submersed up to 59.1′, allowing you to capture 4K footage at 60fps through your entire dive. Aside from that, the DJI Osmo Action 4 shares a lot of the same specs as the latest offering from GoPro, opting instead for 4K maximum output, instead of extending that to 5.3K, as GoPro has.
The latest from Insta360 is their neat little camera called the Insta360 Go 3. With a modular camera system detachable from the body, you're able to shrink the form factor considerably, to get into otherwise impossible-to-reach locations. While the miniature design of this camera is incredibly impressive, it does create some shortfalls to the camera – most notably the 2.7K/30 resolution limitations.
The updated version of the Insta360 One R (which I've previously called my favorite action camera) is the Insta360 One RS. Designed on a modular platform, the Insta360 One RS allows you to switch your lens and battery with ease, from a camera that feels a little like it was designed by Lego. This modular design also allows you to use a 1″ Leica developed sensor, a 360-degree camera, or even swap out the battery for a much larger one.
GoPro Hero 12
GoPro Hero 11 Mini
Insta360 Go 3
Insta360 One RS Action
DJI Osmo Action 4
Sensor Resolution
27MP
24.7MP
Not Specified
48MP
10MP
Max Video Resolution
5.3K at 60 fps
5.3K at 60 fps
2.7K at 30 fps
6K at 25 fps
4K at 60 fps
Image Stabilization
Digital
Digital
Digital
Digital
Digital
Angle of View
156°
122°
134°
Not Specified
155°
Max Aperture
f/2.5
f/2.8
f/2
f/2.4
f/2.8
Environment Protection
Submersible to 33'
Submersible to 33'
Submersible to 16.4'
Submersible to 16.4'
Submersible to 59.1'
Battery
1720 mAh
1720 mAh
1270 mAh
1445 mAh
1770 mAh
Extras
Limited Lens Swapping
Limited Lens Swapping
128gb Built-in Storage
Removable Camera
Modular System allowing for larger batteries and other lens options
Not Specified
Price
$399
$299
$429
$439 w/ 360° lens ($249 for Action Only)
$399
Those are the cameras that I'll be testing for the action camera side of this article. Below is a spec sheet for the cameras above, to give you an easier-to-read breakdown of each. For these cameras, I chose to do 3 tests to determine their features – A side-by-side comparison (at 4K (if available) 30fps), a test of their built-in stabilization, and a test of their low light functionalities. All of the tests done with all of the cameras were used using the default settings unless noted. While some of these cameras offer HDR, various color profiles, and so on, I felt it was best to just test the default profiles and settings, as anything more than that would turn this already long article into a novelization. So let's get into these tests.
Side-By-Side Comparison
To test the picture quality of each of these cameras, I chose the easiest way which was to line the cameras up side by side and record at nearly identical settings. To do that, I got a piece of wood from my local Home Depot, mounted the cameras to the board side by side, and then mounted the board to my friend's motorcycle. Below is some test footage from that test, and at the bottom of this article, I'll provide a Google Drive link that offers all of the footage unedited, for you to look through further if you wish.
Built-In Stabilization
Built-in stabilization has become a must-have feature on most modern cameras these days, and that standard has also fallen to action cameras. Whether you are mountain biking down the side of a cliff or jumping out of a plane, stabilized footage is a necessity to keep your footage from being jarring and hard to view. And while there are a lot of third-party options available for stabilizing your footage, a lot of the cameras have pretty good stabilization systems built into the cameras – so I figured it was worth testing.
For this test, I took the same board I made for the last test, mounted the cameras to the board, and ran up and down my block holding the board. For all of the cameras, I set their stabilization to their maximum setting, to get the best baseline of what these digital stabilization systems are capable of.
Low Light Testing
Lastly, the final test of these action cameras is a low light test. To do this test, I simply took the cameras out of their test bench, and walked around 45 minutes after sunset, recording footage in low lighting conditions to test their noise and image quality in low light conditions.
Action Camera Results
After going through footage from each of the 5 cameras test, I have a few thoughts on each camera (though I'd love to hear your opinion in the comments below). For one, I was unimpressed with the Insta360 Go 3 camera system. While the small camera module is a cool feature, the 2.7K footage isn't nearly enough for 2023 – especially since most modern cell phones can do 4K or higher. Additionally, I found the little camera module refusing to shut off multiple times, so I have several 4-second clips of me pressing buttons on the camera throughout.
Secondly, I also did not like the GoPro Mini 11, which was what I was hoping to be my favorite. The small design is a great selling point for the footage, but I was surprised how frustrating it was to not have a screen on the camera (if nothing else for framing your shot), and the GoPro Quik smartphone app (which is needed to review footage and change settings) is clunky as best, glitchy at worst. I often had it desyncing with the camera (admittedly, it could have because I had both the GoPro Hero 12, GoPro Max 360, and GoPro 11 Mini registered on the app), and most phones are already limited in space, so syncing your 4K footage to your phone first seems like an afterthought.
Of my favorites, I really liked the Insta360 One RS and the DJI Osmo Action 4. The former might have to do with me owning the previous version of the camera, but I found both of their menus to be easy to use and intuitive, and the footage from both of them is really great. But my goal of this piece wasn't necessarily to give the definitive answer as to which one is the best, but to present the data, and let you make a determination. Special thanks to my friend Chris over at Melrose Moto, who helped me capture some of the footage from the cameras, as well as letting me mount the camera to his motorcycle.
360-Degree Cameras
360-degree cameras have taken over some of the action camera market over the last few years, and with good reason – if you need a camera that captures an entire scene, the 360-degree camera does this exceptionally. Additionally, through seamless stitching of footage, you're also able to use a 360 cam much like an action camera, with the added ability to change your composition throughout the shot. If there is interest, I can breakdown the full editing process in another article, but first, let's look at the three action cameras we'll be testing.
| | Insta360 One RS Twin | GoPro Max 360 | Insta360 One RS 1" |
| --- | --- | --- | --- |
| Sensor Resolution | 48MP | Not Specified | Not Specified |
| Max Video Resolution | 5.7K at 30 fps | 5K at 30 fps | 6K at 30 fps |
| Image Stabilization | Digital | Digital | Digital |
| Max Aperture | f/2 | Unspecified | f/2.2 |
| Environment Protection | Submersible to 16.4' | Submersible to 16' | Water Resistant |
| Battery | 1445 mAh | 1600 mAh | 1350 mAh |
| Extras | Modular System allowing for larger batteries and other lens options | None Specified | Modular System allowing for other lens options |
| Price | $439 (w/ Action & 360 Lens) | $499 | $799 |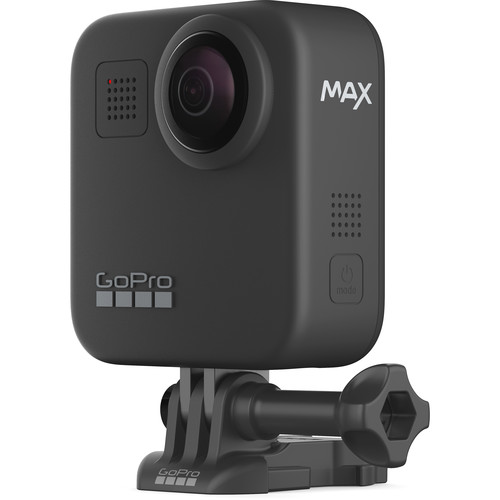 The first of the cameras is from the king of the action cameras – GoPro – with their GoPro Max 360. With 5K video functionality, and internal stitching built-in, the GoPro Max 360 has been a very faithful introduction to 360-degree cameras from GoPro. The added waterproofing and built-in stabilization make it an obvious choice for 360 footage, and with the help of the GoPro Quik app, you're able to quickly edit footage and post both as 360-degree footage and through the reframing process. However, the GoPro Quik software is the only (easy) way to edit the footage.
A double feature on this list, the Insta360 One RS 360 is the same camera as mentioned above in the action camera section, but with the lens swapped to the 360-degree module. Using the 360-degree lens, you're given 5.7K30 footage and with the Insta360 smartphone app (or the free software for your computer), you're able to quickly edit the footage on the fly. Additionally, the software has AI features, making cutting footage easier than ever.
Now the third appearance, the Insta360 One RS also has an added lens you can purchase for the camera, which gives you a 1″ sensor and lenses developed by Leica to provide you with even better footage and functionality. While this lens option converts the camera from the standard GoPro styling into a more vertical platform, the camera's functionality stays the same. The upgraded lens gives the camera a boosted 6K30p option, giving you some of the best footage available from a 360-degree camera platform.
360 Tests
The tests with the 360-degree cameras are far less elaborate than the action camera tests – because of the nature of the cameras. The added ability to reframe the shot after recording makes it so a test bench running all of the cameras simultaneously doesn't make much sense. So instead, I took each of the three cameras tested, strapped them to my motorcycle, and did a quick cruise up to Griffith Observatory. Below is a compilation of the footage, and as mentioned already, the RAW footage will be available to download at the bottom of the article.
Insta360 One RS 360
GoPro Max 360
Insta360 RS One 1″
However, upon reviewing the footage at Griffith Park, I noticed there was a lot of bouncing happening from the camera. Despite using the Insta360 branded selfie stick, designed for motorcycle riding, I noticed it had quite a bit of flex to it when fully extended, pair that with wind and the weight of the camera, and your footage will begin to bounce at a rhythmic pattern. Even though I had the stick mounted using two different mounting arms, it made no difference to the bounce. So I decided to try again, this time mounting the cameras to my handlebars and using the stick without the extension.
GoPro Max 360
Insta360 RS One 360
Insta360 One RS 1″
Upon testing the footage again, with a much more practical mount, I found the footage was even worse than the Griffith footage. I think that this would have been resolved if I used a different bike, but I wanted to present the footage regardless. If there is enough interest, I might write an article about mounting solutions using 360-degree cameras. So if you want me to experiment with that, please chime in in the comments below.
Which brings me to a new critique, why are we still using the GoPro mount system, instead of using a standard quarter-inch threaded post? You see, all the cameras defaulted to mounting to the GoPro mount with the exception of two – The Insta360 GO 3, and the Insta360 One RS 1″. Both of those opted for a screw post mount. However, one of the problems that I came across while testing these cameras was not being able to find the mount that converts GoPro to 1/4″ screw mount. Meaning I had to Jerry rig up various mounting systems to test all of these cameras. The result is that we still have quite a bit of shake in the camera footage. That is likely a culmination of several things, the bike being a big-bore L-Twin engine (resulting in a lot of shake), the rattle of the dry clutch, or maybe there hasn't been a good vibration dampener built yet for 360 cameras. Regardless, I found the cameras shaking quite a bit during the ride, though the digital stabilization did a pretty okay job minimizing it.
360 Camera Results
Upon looking through the footage myself (though I encourage you to look through the footage as well), it seems that when it comes to 360 cams, Insta360 has the market cornered. The auto removal of the 'selfie stick' gives the footage a drone-like quality, a feature GoPro has yet to match. While the price tag for the 1″ lens for the Insta360 One RS might be out of the price range of what people are looking to spend, I was impressed with the regular 360 cam option for the Insta360 One RS. If you're looking to save even more money, I was always impressed with the original Insta360 One R from a couple of years ago. But I would love to see what others think in the comments below.
Frustratingly, the only way to edit the GoPro Max 360 footage is with GoPro's Quik app for mobile devices. Insta360 has a mobile app for editing as well, but they also offer a desktop version of the same app. Perhaps I'm showing my age by complaining about this, but I just don't want to do video editing on my phone. It feels clunky, and more often than not, I use my phone as a distraction for work, instead of my main work device. GoPro promises a computer release of the software in 2024 but has also teased it will only be available for those who pay a monthly service fee to GoPro.
Final Conclusions
As I expected, all of the footage from the cameras is surprisingly similar overall, and all eight cameras I tested in this are capable of producing really great footage. If you have the money, the 1″ Insta360 system is an obvious choice, but the Insta360 One RS Twin package is also a budget-friendly option with the most capable of features. Which one was my favorite? Well, I love the Insta360 One RS platform. For me personally, I see no use for having an action camera that can't do 360-degree footage, and I expect all action cameras to be 360-degree cameras in the next few years. The ability to re-crop and frame your footage takes a little more time, but the added benefits are worth the time. As an example of what can be done with these cameras (and a few GoPros from a few years ago (and some fancy drone work)), my riding buddies put together a video of their ride from a weekend ago – a ride I had to miss because I was testing all of these cameras in more standardized tests. It's impressive to see what can be done with a competent editor (good work, Randall), and some great riding and weather.
But I'd love to hear your thoughts if you've made it this far in the behemoth article. Which one of these cameras are you most interested in? Have any additional questions? Feel free to ask them in the comments below. As promised, you can view the footage used throughout this article by clicking this Google Drive link.
---
Related Reading
I'm Zach and I'm the editor and a frequent writer here at Lensrentals.com. I'm also a commercial beauty photographer in Los Angeles, CA, and offer educational workshops on photography and lighting all over North America.
Posted in Recommendations